Home / Distribution
Distribution
ALKAMAL WAREHOUSES & STORES
ALKAMAL has its private warehouses in all Cities of Syria, applying strict GSDP regulations, applying FEFO method in managing warehouses,(First Expired First Out) to minimize risk of products return and human error, through applying efficient accounting program and product tracking system. In addition of placing cameras in all our warehouses can be viewed from managers I-pads, and integrating security alarm systems in case of fire or stealing incidents that may occur.
ALKAMAL VEHICLES ARMY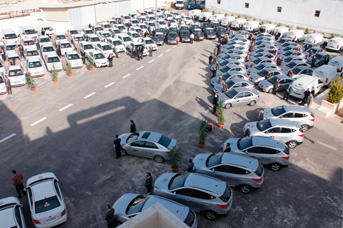 All vehicles (Sales & Marketing) serve as moving advertisement, printed by Alkamal logos and Agent's logos, placing also products photo on Trucks and Vans.(Serves Personal Care products and OTC products).
No. of Vehicles: 212
ALKAMAL SALES CHANNELS:
6000 pharmacies
5000 physicians
Private and public hospitals
Around 45 malls & Supermarkets